---
Student Loan Refinancing Made Easy
Experience the freedom that comes with saving on your student loans and
refinance today.
✔ Fast & simple application. Get pre-approved instantly.​
✔ No fees. No origination fees or pre-payment fees.​
✔ Lower your monthly payment. Multiple repayment options to fit your budget.​​
---
Experience the freedom that comes with saving on your student loans and
refinance today.
Fast & simple application.

Get pre-approved instantly.​

No fees. No origination fees or pre-payment fees.​
Lower your monthly payment. Multiple repayment options to fit your budget.​​
Benefits of Using LendKey

---
Lower Your Payments
---
You can reduce your interest rate, lower your monthly payments, and save thousands over the lifetime of your loan when you refinance student loans.

---
Simplify Your Finances
---
Through our lenders you'll be able to refinance student loans, both federal and private, including graduate loans, into one convenient loan at a great rate.

---
No Origination Fees
---
When you refinance student loans through us, our lenders won't charge you any origination fees.

---
Flexible Options
---
Many of our student loan refinance lenders offer various repayment options, including fixed and variable rate loans from 5 - 20 years.
Save Money with Student Loan Refinancing
The average student graduates college with more than $30,000 dollars in student loans. Those that go on to graduate school will graduate with even more debt, many times in the six figures for professional degrees. Borrowers don't always realize that their loans are costing them more than they think. Interest is tacked on to the loan amount (i.e., principal) making the total cost of the loan greater. While there is no way to eliminate student loan debt without paying it off, there are some tactics to reduce the overall cost of the principal and interest combined. One way is with a student loan refinance.
You could be saving thousands of dollars when you refinance your student loans.
Many borrowers are eligible to refinance but don't know where to start. The first step is to get familiar with how student loan refinancing works.
---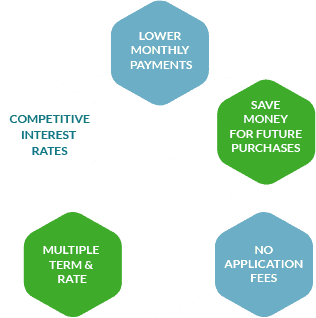 Should I Refinance My Student Loans?
Depending on how long you've been out of school, your annual income and credit history is likely to have improved. By refinancing your existing student loans you may see a dramatic reduction in your interest rate – even a few points. With only a few exceptions, it is generally advisable for all student debt holders to at least explore a refinancing scenario, especially since getting your rate through LendKey's platform will have no impact on your credit score.
What is Student Loan Refinancing?
Refinancing student loans allow you to do a few things. If you have multiple loans, you can combine them into one brand new loan making it more convenient to stay on top of personal finances. You'll also sometimes have the opportunity to release cosigners on your existing loans eliminating them from any liability for your loans. But probably most exciting is the opportunity to save money. With a student loan refinance, you are replacing all of your existing student loans (or a single student loan if you only have one) with a new loan with new terms. By qualifying for a lower interest rate or reducing the payback period of the new loan, you could save thousands in interest over the life of the loan.
Is there a catch to refinancing student loans?
You still have to qualify for a loan to refinance. However, the idea is that over time your credit score has improved and you are now bringing in a steady income with the degree you got. A better credit score could mean more attractive loan terms and rates. With a steady income, you would also be viewed as a lower-risk refinancer.
You would need to carefully consider when refinancing federal student loans though because they often come with benefits, such as loan forgiveness in certain career paths. When refinancing, you'd lose those student loan benefits—so decide whether or not you'd use any of them before refinancing.
Starting the Student Loan Refinance Process
Depending on the type of loans you have, there are two options when refinancing your student loans. If you have only federal student loans, refinancing is usually done through the Federal Direct Consolidation Loan Program offered by the government. If you have private student loans, you'll have to go through a private lending institution such as a bank or credit union. Finally, federal and private student loans can both be combined into a single new loan with better rates, better terms and one easy-to-keep-track-of bill to pay every month. However it must be done through a private bank or credit union. Keep in mind that refinancing federal student loans will eliminate the benefits that come with them.
Check out our student loan refinancing calculator to see how much you could be saving. When you're ready to get started, we are here to help with your student loan refinance through our network of lenders!
Refinancing Calculator
Our fast and easy student loan calculator lets you plug in your remaining debt and monthly payment to figure out if refinancing can improve your finances.
Federal and Private Student Loans
Consolidate Federal and Private Student Loans
With LendKey's student loan consolidation and refinancing, you can combine your federal and private student loans into one convenient payment with a lower interest rate. That could help you better manage your finances, and save over the life of your loan.
Variable Rate vs. Fixed Rate Student Loans
Whether you choose a fixed or variable rate, it's always important to remember to pick a loan that is right for you and your particular financial situation. Remember that interest rates could rise higher than the past highs. If you're comfortable assuming a little more risk in your payment amount, a variable rate loan does have the potential to offer more savings.