Student Loan Refinancing Made Easy
Save thousands by refinancing your student loans to a lower interest rate - with multiple repayment options to fit your budget.
Refinance your student loans and get up to a $200 bonus!1
Checking rates will NOT affect your credit score.2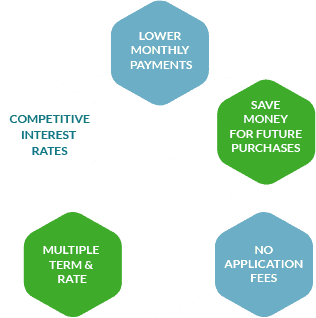 ---
Did you know that 83% of non-homeowners say student loan debt is preventing them from buying a home?
Refinancing your student loans allows you to:
Combine multiple loans into one brand new loan, making it convenient to stay on top of personal finances.
Release cosigners on your existing loans.
Save money!
With a student loan refinancing, you are replacing your existing student loans (or single student loan) with a new loan with new terms.
By qualifying for a lower interest rate or reducing the payback period on the new loan, you could save thousands in interest over the life of the loan.
That puts you on the path to homeownership.
Benefits of Using LendKey For Student Loan Refinancing

---
Lower Your Payments
---
You can reduce your interest rate, lower your monthly payments, and save thousands over the lifetime of your loan when you refinance student loans.

---
Simplify Your Finances
---
Through our lenders you'll be able to refinance student loans, both federal and private, including graduate loans, into one convenient loan at a great rate.

---
No Origination Fees
---
When you refinance student loans through us, our lenders won't charge you any origination fees.

---
Flexible Options
---
Many of our student loan refinance lenders offer various repayment options, including fixed and variable rate loans from 5 - 20 years.
Checking rates will NOT affect your credit score.1
We are trusted by clients referred to us by these leading companies: